With 22 million views as of this writing, my IKEA Hack Platform Bed is, by far, the most successful video on my channel. It has inspired hundreds of people around the world to build a bed from ordinary kitchen cabinets. And it has inspired me to continue publishing videos of everything I do around the house.
IKEA Hack Platform Bed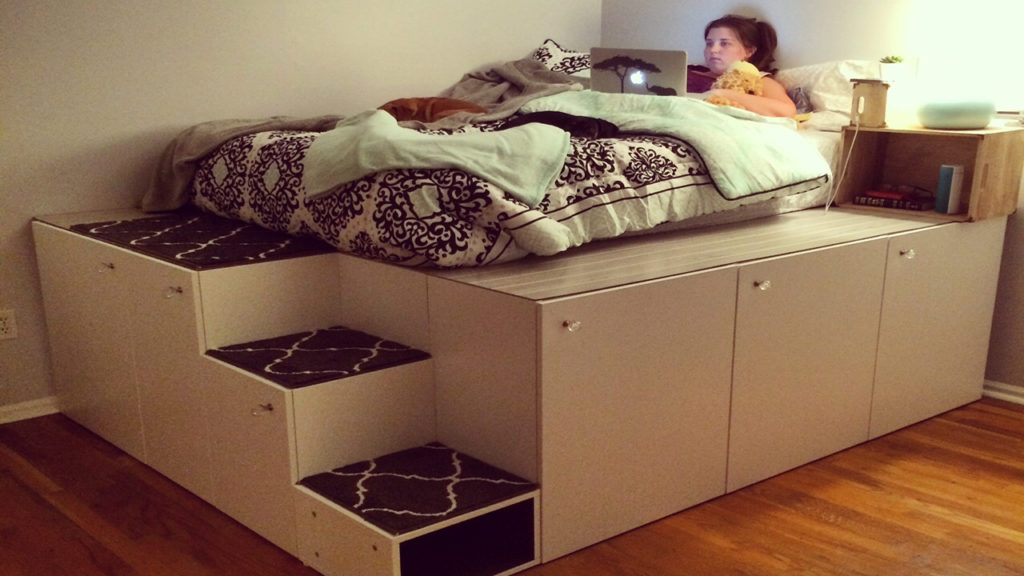 Although the bed has more than 200,000 likes, there are some people who don't like the original design for two reasons:
It's attached to the walls and many people they can't (or won't) permanently attach a bed to their walls
It takes up a lot of floor space and some people have rooms too small for such a large footprint
---
---
Disassembly*
Frames to Support the Structure
To make the bed freestanding, I needed to make two frames to act like mini walls to support the rails. I used 1 x 3 pine here, which is plenty strong enough and maximizes the usable space.
These frames have three "studs" sandwiched between a top and bottom plate. I cut some 45-degree angled supports from scrap 3/4-inch plywood and used them to stiffen the frames and attach the melamine sheets.
Melamine is a white chemical resin that feels like hard plastic.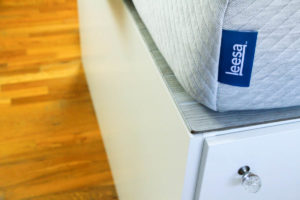 Melamine sheets are 3/4-inch thick dense particle board sandwiched between two layers of that white plastic. It's very heavy and durable, and it matched my IKEA cabinets perfectly.
I used edge banding made from the same material with glue on the back. I attached it to the cut edges with an iron (I used a hobby iron, but you can use a regular laundry iron as well). The edge banding is a little wider than the board, so I just trimmed the excess with a small block plane for a nice clean look.
I used the melamine to close in the foot of the bed, but you can obviously use additional cabinets here if you want.
I attached the melamine to the cabinet after drilling pilot holes, using tape as a depth gauge so I didn't drill too far. Then I secured the frame to the melamine by screwing through the angle braces.
Rails and Slats
Three rails run from the head to the foot of the bed on top of the two frames. The side rails are attached to the cabinets on both sides, and the center rail is attached to the frames.
Then I screwed twelve 1×4 slats to each of the rails. I used two spacer blocks cut from scrap wood to space the slats 3″ apart. You generally don't want slats spaced further than 3″ to support a mattress, especially a foam mattress like the Leesa.
I reattached the gray paneling with a couple of screws. The carpet tape from the original bed was still very sticky (as you can tell by the cracked panel) so I didn't bother replacing it.
Sponsored by Leesa
Blueprints Available
Watch the Video on YouTube