IKEA Hack Platform Bed Q&A
I am overwhelmed by the popularity of my IKEA Hack Platform Bed (affectionately known as #thebed in my house). On YouTube, the video generated more than 16 million views, 40 thousand subscribers, and four thousand comments. Those comments inspired me to rebrand my channel as HandyDadTV and create this web site (see the About page), but they also prompted me to record an IKEA Hack Platform Bed Q&A session.
In the Q&A session, narrated by my daughter, Rebecca, who has slept in #thebed for four months, I answer some of the most common questions about the project, including construction options, what/where to buy, how to repair (and prevent) broken steps, and if the bed is sturdy enough for "nocturnal activities."
It's must-watch material if you are considering building #thebed.


MUST WATCH Part 2 of this video!
I don't like long videos so I broke it into two parts. The second part covers very important topics such as repairing a broken step, preventing broken steps, and the ever-popular question about weight capacity for more than one person doing — ya know — what couples do in bed.
Supplies
The approximate cost of this project was $480, roughly broken down as follows:
$355 – Cabinets
$85 – Lumber
$40 – Paneling, carpet, knobs
Cabinets
I've had a number of questions about the specific cabinets used. Keep in mind, you can do this project with any brand or style as long as they are wall cabinets. I used IKEA cabinets that are called SEKTION in the U.S. and METOD elsewhere. They can be found on ikea.com, although the website can be flaky and you may need to visit the store to purchase them.
I don't give links because they are subject to change. If you want to use my exact cabinets, the best way to find them is to go to ikea.com and search for the article numbers shown below:
SEKTION 24w x 15d x 30h – Article #790.344.55 (qty: 4)
SEKTION 15w x 15d x 30h – Article #190.344.44 (qty: 1)
SEKTION 15w x 15d x 20h – Article #390.344.43 (qty: 1)
TUTEMO 9w x 14-3/4d x 15h – Article #802.783.53 (qty: 1)
Note that I bought them complete with the Häggeby White doors and hinges. Be careful because IKEA has different options for buying different doors or without doors, and these options affect the price.
The smallest step is a TUTEMO open cabinet laid on its side. This cabinet measures 9 x 14-3/4 x 15. It's not the exact size shown in my design, but it's the closest I could get.
Paneling
I get a lot of questions about the paneling. This kind of paneling is a quick and easy wall board made from wood fibers with a printed veneer to look like wood. It was extremely popular in the US in the 1970's, but it is still available in large home centers.
We bought our paneling at Home Depot in Freehold. It comes in sheets that are 4 x 8 feet (121cm x 248cm) and approximately 3/16″ (47mm) thick. They probably had 6-8 different varieties in stock, and we just picked out the one we thought would look best with her cabinets and comforter. It was inexpensive – less than $20.
Free-standing Bed Frame
If you want to build a bed like this without attaching it to the walls, start with a freestanding bed frame design, such as this one and add the cabinets to enclose it.
Naysayers
Not everyone loves this design or the materials. Are you one of those haters who think IKEA cabinets are cheap and this bed is doomed to fall apart? If so, read this.
Blueprints Available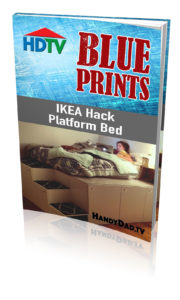 Blueprints for this project are available for purchase in my store. The detailed blueprints show you exactly how I built this bed so you can build an exact replica or adapt it to your own design.
I offer a discount for subscribers! Learn more about my Subscriber Discount.