Crown Molding on Furniture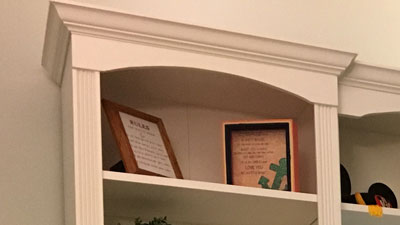 Crown molding is one of the most elegant details you can add to a room in your home. It has even more of a visual impact when you install crown molding on furniture. If you look around your house, you will likely find some type of crown molding on many pieces of your furniture. It shouldn't be so big that you say "Wow! Look at that crown molding!" when you walk in the room. Instead it should be scaled appropriately to accent the beauty of the piece without being overpowering.
This is a detailed how-to video from my Bed Bridge Bookcase project which transformed very square, boxy bookcases with elegant curved arches and simple crown molding, as detailed in this video. I recommend watching the project video first if you haven't already seen it so you'll know the whole story behind this project.
Removable Crown Molding?
I purposely built this project so it could be transported from New Jersey to Florida in a rented trailer, so the crown molding needed to be removable to prevent breakage. Even if I was building it to remain in my home, it's still a good idea to make delicate trim removable because everybody moves eventually! Don't they?!?