Build a DIY Trellis in a Weekend
This video shows how to build a DIY Trellis in a weekend (possibly in a day if you're not staining it). I needed this new trellis to support a big clematis vine in a small garden next to my garage. It blooms in early summer with the most beautiful purple flowers and we love it. For this, and any outdoor structure, it's always recommended to use pressure treated lumber so it will last a lifetime.
[kad_youtube url="https://youtu.be/lfncI6FZbo8″ ]
DIY Trellis Inspiration from This Old House
[columns] [span4]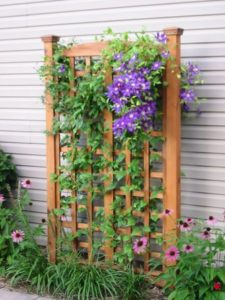 [/span4][span8]
I found this picture on Pinterest, but it was shared from an article on This Old House that doesn't exist anymore. So I had to design it myself. No worries; I'm really good at copying things if I have an example (I'm not good at designing from scratch.)
[/span8][/columns]
I used a semi-transparent stain so the wood grain and imperfections show through, but it contrasts beautifully against the bright green clematis leaves. I can't wait until it blooms!
Although we have a side-entry garage, the trellis is highly visible from the street and it really adds to the curb appeal of our house. We love it.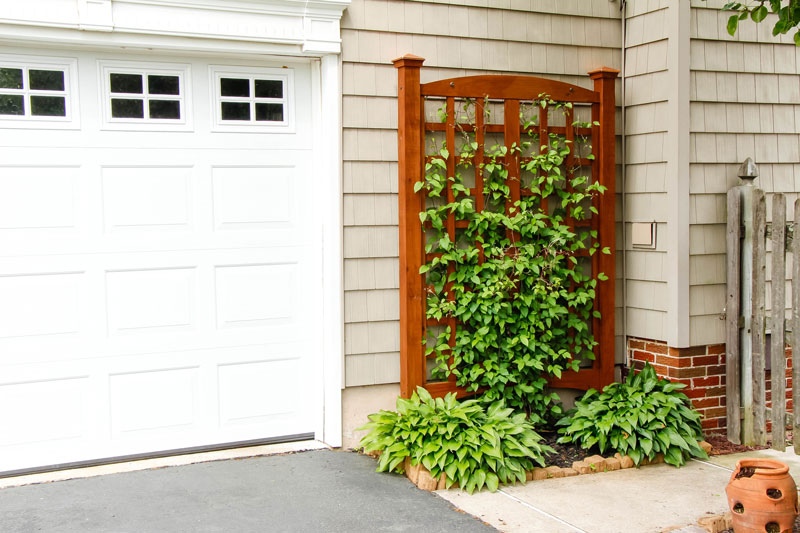 Build this DIY Trellis
Materials
2 – 4x4x8 pressure treated posts
1 – 2x6x8 pressure treated board (for top and bottom rails)
4 – 1x6x8 pressure treated boards (cut into 1.5″ lattice strips)
1 – 1x4x8 pressure treated board (for center of lattice)
2 – post caps
2 – 8×8 concrete blocks (for footings)
4 – 1/2″ x 8″ exterior lag screws (to join rails to posts)
1-1/4″ and 2-1/2″ exterior deck screws
Behr Semi-Transparent Stain & Sealer (color=Russet)
To draw the curve of the top rail, I used the Radius Calculator that I created on another project.
The height of the bottom rail (and the length of lattice grid) can vary depending on your situation. I raised mine up to be visually the same line as the bottom course of siding (although you can't tell from this picture) and because I had a mature clematis already growing.
Remember, the post is buried 12″ into the ground, so that's why it shows 84″ as the height of the post.
If you want to build a freestanding DIY trellis that isn't attached to the house, you'll need to get longer posts and sink them 3 feet into the ground.
[blockquote align=left]
Metric conversion: 1″ = 2.54cm
[/blockquote]
Measurements for the DIY Trellis