Ted's Woodworking Scam Alert and How to Get Your Money Back
I'm very much into woodworking as I like to build stuff myself. I also sell blueprints of my projects directly to my subscribers who want to build them. They are 100% my original work and are not expensive in relation to the time saved if someone wants to build an exact copy of one of my projects.
I'm also an affiliate marketer, which means I make small commissions if you buy something from one of my links. (YouTube doesn't pay much so you should assume every YouTuber is also an affiliate marketer.)
Many people have tried posting comments on my videos with links to a collection of woodworking plans called "Ted's Woodworking". YouTube flags any comments with URLs for review, and I always delete those comments which are blatant advertisements trying to sponge off my work.
Then, last week, someone offered to pay me to post their link in my video descriptions. Can you guess where that link took me? You guessed it: Ted's Woodworking.
So I decided to do a deeper investigation of this "product" and here's what I found:
Propelled by Affiliates
Affiliate Marketing is when a company is willing to pay a commission to virtually anyone who drives traffic that causes a person to purchase a product online. Most companies have affiliate programs these days – whether they are purely online companies like Amazon, Ebay and GoDaddy, or bricks-and-mortar companies with an online presence like Walmart, Nordstrom and Home Depot.
Most of the products you see in my videos have product links in the video descriptions, and those links earn me a small commission if they generate a sale. Typical commissions are 2-4% on most goods, but they can go much higher on specialty products like health aids and weight loss items that may or may not provide any direct benefit to the consumer.
Ted's Woodworking attracts affiliates with projections of 75% commissions per sale with 11% conversion rates. This is a huge commission compared to most other retailers, so it gets a lot of greedy attention and that's the only reason the product gets any traffic.
Ted's Woodworking is not a Product
The logo suggests the consumer is buying a DVD filled with blueprints and videos for over 16,000 projects. A DVD would be a one-time purchase that can be referenced far into the future. In reality, the buyer only gets access to projects on Ted's website for a limited amount of time unless they upsell to a monthly subscription. I've seen other complaints stating there are nowhere near 16,000 projects on the site, and all the plans and videos could be found elsewhere on the Internet for free or for purchase.
You read that right. People have accused Ted of stealing plans from other copyrighted sources.
Perhaps there is some value having Ted's be a directory of woodworking plans, but it's being marketed as if Ted himself created them from scratch.
Ted's Woodworking is not a Real Company
Ted's site shows his name as Ted "Woody" McGrath and a business address in Slater, Iowa. That name and address are both bogus. The Post Office confirmed this address never actually existed! His picture in the logo is just a stock photo as well!
The Better Business Bureau has a file on Ted's, but it's all bad news. The website received 31 complaints, failed to respond to those complaints, and as a result received an "F" (worst grade according to the BBB Review).
YouTube woodworker, Steve Ramsey, did an expose of Ted's Woodworking in 2010. And yet, suckers are still being born every minute.
Sadly, there are a plethora of blog posts like mine questioning if Ted's is a scam. Unfortunately, they are just clickbait and actually try to convince unsuspecting buyers to purchase the product. Notice the similarity between "Clickbank" and "Clickbait"?? Well, I'm not falling for it.
I'm not here to rip you off.
Ted's Woodworking Scam – How To Get Your Money Back
If you already bought this "product", don't bother trying to contact "Ted" or his support because they will not respond.
But all is not lost! I've got your back and you should be able to get a 100% refund.
You need to contact Clickbank, the affiliate gateway that handles Ted's transactions.
Here's what you do:
Input your order information and click Submit
Click on Click here to get support on the top left corner
Click on More Options and write your refund request
In most cases, Clickbank will refund your money. Note that you have to request the refund within 60 days of purchase.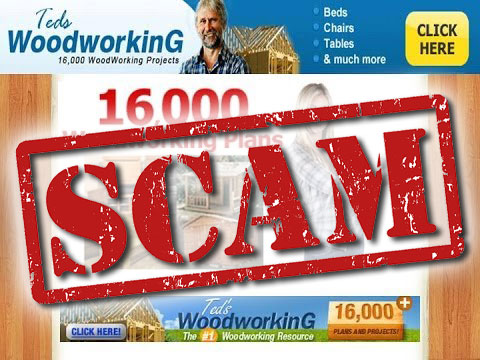 Did you fall for this scam too? Were you able to get your money back? Let us know in the comments below.