Amish Pergola Kit
If you don't have the tools, skills, or time to build your own pergola from scratch, you can buy an Amish pergola kit on the Internet and save money by assembling it yourself.
In this video, I show how this gorgeous pergola was assembled by a bunch of guys and a couple helpers in about five hours in spite of the rain, arguments, and other mishaps.
Watch "Amish Pergola Kit" on YouTube
Save Time, Money and Frustration With a Kit
Building a pergola "from scratch" – with lumber and supplies from a local lumberyard – can be a complicated and frustrating task. Variables such as cost, completed product look and time of construction can all be eliminated with a pergola kit. DIY pergola kits ensure you know exactly what you're getting. The step-by-step instructions included with a pergola kit guarantee ease of assembly for any size pergola. With the help of a few simple tools and a few friends, your pergola is easily assembled in a single day. No extra costs or forgotten lumber, no midday trips to the home center, and you know exactly what your pergola will look like when the project is finished.
Material Selections
Typically you'll get to choose between wood or vinyl pergolas. I prefer wood for strength and beauty, but it's a personal decision. Our wood pergola kit is made of pressure treated pine stained in mahogany. The 5×5 posts are made from laminated pressure treated lumber for strength and stability.
Cost
The cost of your kit will vary depending on materials and size. The kits are built to order so you have limitless options to create the exact look you want.
Where to Buy
This is the only kit I've built so I'm in no position to recommend one company over another. I suggest you evaluate various kit manufacturers that sell in your area and make the right decision for you.
Shade Decision
A pergola is a beautiful way to define your outdoor living space. But if you intend to get a pergola to block the sun, think again. A pergola is a very open structure so it doesn't block much of the sun.
There are generally two options for providing shade with pergolas: a retractable canopy or a shade tarp.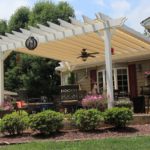 A retractable canopy is attached to the underside of your pergola joists and has the advantage of being temporary and on-demand. Extend it when you want shade; retract it when you are done.
A shade tarp like I used on my Curved Pergola, pictured here, is attached over the top of the pergola. A shade tarp like mine blocks 90% of the sun's rays and is installed for the summer season. I remove it in the fall when the sun isn't as hot.
Expect to spend a few hundred dollars on a shade tarp, or many times that on a retractable canopy.
Neither option provides protection from weather. That would require a structure with a roof, commonly called a pavilion. If that's what you need, you can find pavilion kits on the Internet too.
Need Help with an Amish Pergola Kit Installation?
If you don't have the time or desire to assemble your pergola kit on your own, most kit manufacturers have a network of installers ready to visit your location and assemble your pergola kit in a matter of hours.