Viral Bed Turns One
By REBECCA ALLEN, Press Writer
Mon Jul 4, 6:31 AM ET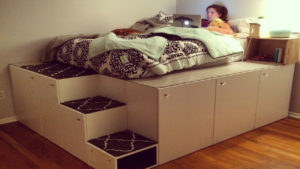 FREEHOLD, NJ — A year ago, while the rest of America celebrated Independence Day 2015 with hot dogs, beer and fireworks, Chris Heider was creating his own history when he "hacked" seven IKEA kitchen cabinets into a unique platform bed for his daughter.
The self-proclaimed "handy dad" is a father of three who makes a living from information technology in the pharmaceutical industry. Heider leveraged his three passions – woodworking, photography, and video editing – to produce a 6-minute how-to video building the platform bed on YouTube. Little did he know, that video would make him somewhat famous and create a part-time business opportunity.
His YouTube channel only had 540 subscribers when the bed video went live on August 17th. The video wasn't immediately popular; it had less than a thousand views in its first week.
It was up to 60,000 views one month later when Heider's application for YouTube partnership was approved, meaning he would begin sharing Google's ad revenue going forward. Lucky for him, because the video racked up another 263,000 views the following week and kept growing.
Fueled mostly by viewer shares via third-party media outlets, such as sunnyskyz.com, diply.com and damn.com, the video officially hit viral status when it was watched over 5 million times the first three days of November alone.
When the bed celebrated its birthday this Independence Day, the video had been viewed over 16 million times and Heider's channel had over 40,000 subscribers earning him a B-grade by social media expert, Social Blade.
To capitalize on this success, Chris launched a web site and more than 25 additional how-to videos under the brand name, HandyDadTV. He also publishes stories and pictures of fans that built the bed.
He also created bedroom videos for his son and other daughter, but Chris clearly doesn't specialize on bedrooms. Some of his videos mention commercial collaborations with EC Technology, Fram air filters and Walmart.
Chris Heider's motivation is clear on his web site's About page.
"My wish," says Heider, "is for this site and my videos to inspire the current generation of dads who lack the confidence to be handier, and to inspire the next generation of handy kids who don't have dads to mentor them."
You can contact Chris Heider with business opportunities via email at chris@handydad.tv.