Turkey Wood Craft – Free Pattern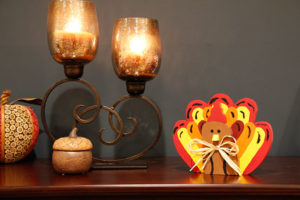 This turkey wood craft project is a fun and festive way to kick off the holiday season. It can be made with any kind of wood, even plywood. I used a scrap 3/4-inch thick pine board and sanded it smooth. You could also use rough sawn pallet wood and distress the paint.
Free Pattern
The full-size, 2-piece pattern, is free for subscribers of my mailing list. After subscribing, you'll get a confirmation email from MailChimp that contains a link to the Subscriber area of my website. The pattern can be downloaded from there.
Paint
I used ordinary craft paint from a local craft store. Just pick fall colors that you like; they don't need to match perfectly.
The top coat is Mod Podge in a matte finish. This seals the paint and gives it a sheen. It's completely optional, though, because you may like the flat look of craft paint. If you like an antique look, the project will age sooner without a topcoat.
Body
The feathers on the body are painted from back to front:
Cherry Red
Dark Yellow
Dark Orange
Wine
Black
Head
Brown/White
Cherry Red
Black
The stock brown color was a little too dark for the head, so I added a little white and mixed it well before painting.
Assembly
The head and body are screwed together with 1-1/4″ drywall screws. I predrilled holes through the body with a countersink bit.
Beak
The beak is not included in the pattern. I just used a little corner of the scrap leftover from cutting out the body, then sanded it to the triangle shape that I wanted.
Tools
A scroll saw is definitely required if you like to do wood craft projects like this. I've had mine for 30 years. Get a good one and it will last forever.
Sanding is optional, but for this project, I used a stationary belt sander and a detail sander because I wanted a smooth finish.
[kad_youtube url="https://youtu.be/GQdBHoOo-vA" ]