Trunk Makeover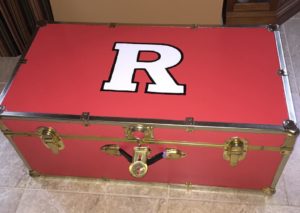 While in Florida delivering the Bed Bridge Bookcase this New Years, my daughter Julie said she no longer wanted her old pink trunk from her childhood. Tom, a freshman at Rutgers, said he wanted to save this "family heirloom" from the dumpster and bring it to college. So we schlepped it 1,100 miles back home to New Jersey and it became his project over Winter Break from school.
From Playroom to Dorm Room
I'm not sure when this trunk actually came into our house, but I can imagine it filled with stuffed animals, Beanie Babies, and dress-up clothes over the course of its life. It was originally purple, then later painted pink and covered with stickers over the years. Clearly an expression of my oldest daughter's personality.
Tom had plans for that trunk. He intended to put it to good use in three ways:
He could use it to carry lots of stuff up to his dorm room (taking fewer trips from the car is always a good thing),
He could use it to store stuff and secure valuables under his bed, and
He could use it as extra seating during peak periods of "Xbox binging".
Logo Transfer Technique
You're never too old to learn new tricks! The most amazing thing I learned on this project was the technique of transferring the Rutgers logo to the trunk using tissue paper. I have to give credit to my daughter, Julie, for this one. She has been using this technique for years on all kinds of crafty things that she has painted. It worked like a charm.
This technique works fine as long as your art can fit on the screen. What if you want to put a logo on something bigger? Take a look at my Pallet World Map project for an alternative.
Tools used on this Project