Being handy takes skills, confidence, and tools! Watch videos to give you confidence to try increasingly challenging projects that build your skills. You'll usually acquire a tool the first time you need to use it — like a wet saw for cutting tile. Why would you buy one of those before you need it?? But there are plenty of basic tools to keep on hand because they are useful on a wide variety of projects.
This guide isn't for you, per se, it's for you to give to someone who loves you! If you're one of those people who are difficult to buy for, you can use this guide to build your holiday or birthday wish list. Give it people who need ideas of things to buy you! Get something new for each occasion and, next thing you know, you'll have an arsenal of tools to accomplish anything!
You can print this image and circle the things you want, or download it as a PDF and email it to Santa. Or your significant other. Or mom.
Click on each item to quickly search for that tool on Amazon.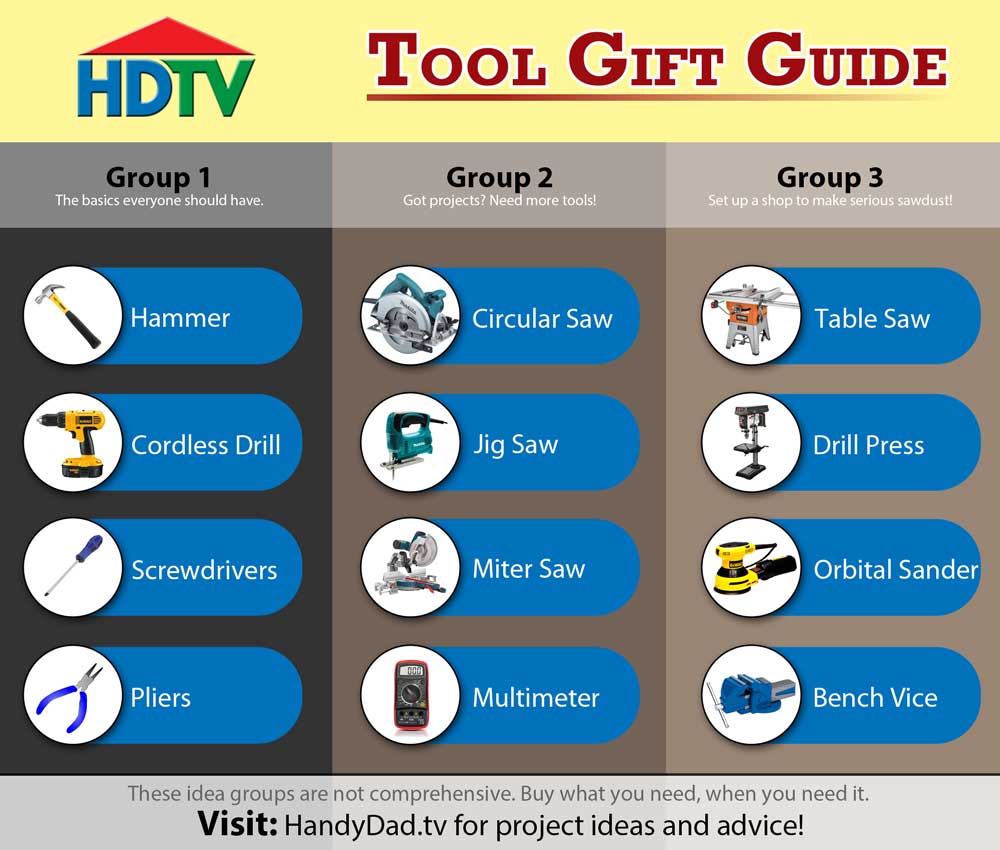 Note About Brands
I have no sponsorships with any tool manufacturer so my opinions are unbiased. That said, I haven't tried every brand of tool so these are just brands that I've used.
I have experience with Makita, Milwaukee, Porter Cable, and Craftsman — I like them all. My dad worked for Sears and enjoyed an employee discount, so my parents and spouse would often buy me Craftsman tools for birthdays and Christmas when I was a new homeowner around 1987. Now we're in the Amazon era and every brand is accessible to everyone everywhere. I suggest you read the reviews and ask your friends for their opinions. Or ask me.
Good Tools Last a Lifetime
I have a Skilsaw 6-1/2″ circular saw that was my Dad's. It is older than I am! It's very heavy and has no modern safety features so I've often thought about replacing it with a more modern 7-1/4″ saw, but it's a workhorse and just won't die.
I won't say "They don't make 'em like that anymore" because I'll sound really old. And because it's not true. For example, I have no doubt that my genuine Milwaukee Sawzall will be passed down to my son because it's such a well-made machine with more metal and less plastic. If you want them to last, avoid tools with plastic housings because they probably won't hold up to the abuse you're going to give them. Good tools will cost more — expect 2-3 times as much as the low-end plastic models — but you will never be disappointed with a good tool.
Cut the Cord?
Ah, the Corded vs. Cordless debate goes on. Corded telephones are practically obsolete. Are plug-in tools also a thing of the past? Read my views in my post about Cordless Tools.