Summer Prep: Pool, Pergola and Patio
Memorial Day weekend is summer prep time in New Jersey. My to-do list includes opening the pool, washing the patio furniture and preparing the pergola for sunny days ahead. Although it sounds easy, it's a two-day group effort — a lot of work. But we only have to do it once a year and then we get to relax and enjoy it.
I was thinking of calling this episode "Why you need a power washer". Watch the video and you'll understand why. More details below.
Watch the Video
[kad_youtube url="https://youtu.be/sENJz9Dfq88″ ]
The Pool
My pool is a no-frills, 16-feet x 32-feet rectangle. By "no frills" I mean, it has no diving board, slide, lights, or steps. I bought the pool with the house so those decisions were made by the previous owners. The shallow end is 3-feet deep for wading, and the deep end is 8-feet – suitable for diving… just without a diving board. Don't get me wrong! We love our pool, although I would love permanent steps. And a light. Because, I love lights, as you know.
The Patio
Our stamped concrete patio was a face-lift on the original patio that came with the house. The old patio was uneven and had too much pitch. When I built the sunroom, we had the old patios leveled with the stamped concrete. The power washer does a great job of cleaning the crevices in the patio.
The Pergola
I love love love my pergola! I built it a couple of years after the patio was redone because the sun was unbearable in the summer on that side of the house. What you see in the video is "version 2" of the pergola. Read the whole story here.
The Power Washer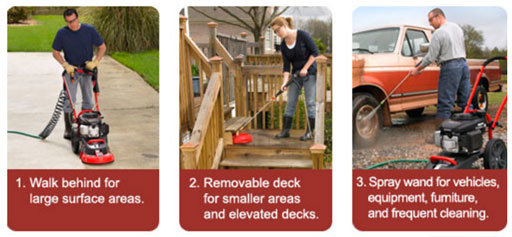 I bought my Homelite 3-in-1 pressure washer a few years ago from Home Depot. I was thinking of doing a video review on this tool because I love it so much, but unfortunately that model appears to be discontinued and I don't see a newer version. I have so much concrete that the deck washer is the best feature. I dread the day it dies on me.
Related Videos