Parking Sensor Troubleshooting
The Problem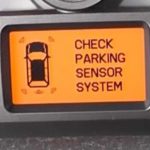 "Check Parking Sensor System" was the big orange error on my 2012 Honda Pilot's display. The day that the error showed up was the day our parking sensors stopped working. The button on the dashboard didn't work at all, no light, nothing.
We've had the car for about 5 years and we've become very accustomed to those sensors when parking anywhere, especially in our garage. The car was out of warranty so I was cringing at the thought of taking it to the dealer for diagnosis. I knew that would be expensive.
I did a Google search for the error message and I found that I wasn't the only person with this problem. Many people posted about this issue, and it appeared to occur on other Honda models, not just Pilots.
Watch the Video
[kad_youtube url="https://youtu.be/cGztYcLg_QU" ]
The Solution
My issue turned out to be a burned out indicator bulb in the switch. Yup, that's it. I couldn't believe Honda would be so stupid in their design that the entire system would shut down because of an indicator light!
On the other hand, I'm very thankful that it turned out to be something so easy to diagnose and fix! A $7 DIY fix in an hour is much better than a $150 dealer fix after he has my car for a day.
The Honda part number of my bulb was 35474-SZA-A11. I found it on eBay for $6.98 including shipping.