Pallet World Map
My son's bedroom makeover was bold with a very masculine black and tan theme. Very contemporary, slightly industrial. It was the first time I ever painted a wall black in my house. We always gave our kids the freedom to pick their room decor, within reason, and this was Tom's decision.
The wall art in his old room was appropriate for his teenage years – posters of rock bands that I never heard of, pennants from all the colleges he was considering, and shelves made from skateboards. But now, as a college man, most of those high school remnants were headed for the trash. He kept one poster (a farewell tour for the band "Thrice" which has since broken up) and a Rutgers pennant.
For weeks we searched for wall art in stores like Home Goods and Marshalls (my wife's favorites) looking for inspiration. We saw antique maps in a restaurant and they really caught Tom's eye. Having seen maps like that in antique stores, we know how expensive they can get!
The black wall behind Tom's bed was a focal point in the room and it needed something special. Special, not expensive.
Inspiration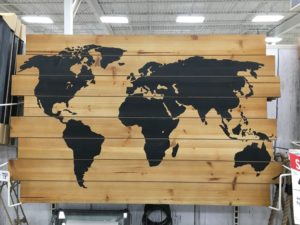 We happened to be shopping at a local craft store when we came across a world map on wood. It wasn't solid wood; it was press board with a pine veneer. We texted a picture to Tom and he liked it but asked if I could "rough it up". I wasn't going to pay $80 for fake wood that I'd need to work on after I got it home!
That's when I got the idea to utilize pallets for the wood. I already had a couple of pallets in my shed waiting for a good project, and this was a good project for them!
The hard part would be getting the image on the wood. I had seen several videos about transferring laser-printed images from paper to wood using acetone and other methods. But this image was large and would require 8 sheets of paper that would need to be lined up perfectly to look right. I'd never seen anyone do that but I was crazy enough to try. However, all the examples said the wood needed to be smooth or the paper would rip while transferring the image. I didn't think that technique would work on rough pallet wood.
Have Projector, Will Travel
I knew I could paint the image, like I did on Tom's Trunk Makeover, but needed some way to get a large outline on the wood. I decided to use an LCD projector with the actual image of the craft store map (hey, I didn't see a copyright; and, really, can you copyright the world?). If you don't have a projector, just borrow one from work or school if you want to do a project like this.
[kad_youtube url="https://youtu.be/cE0nNbuEhTs" ]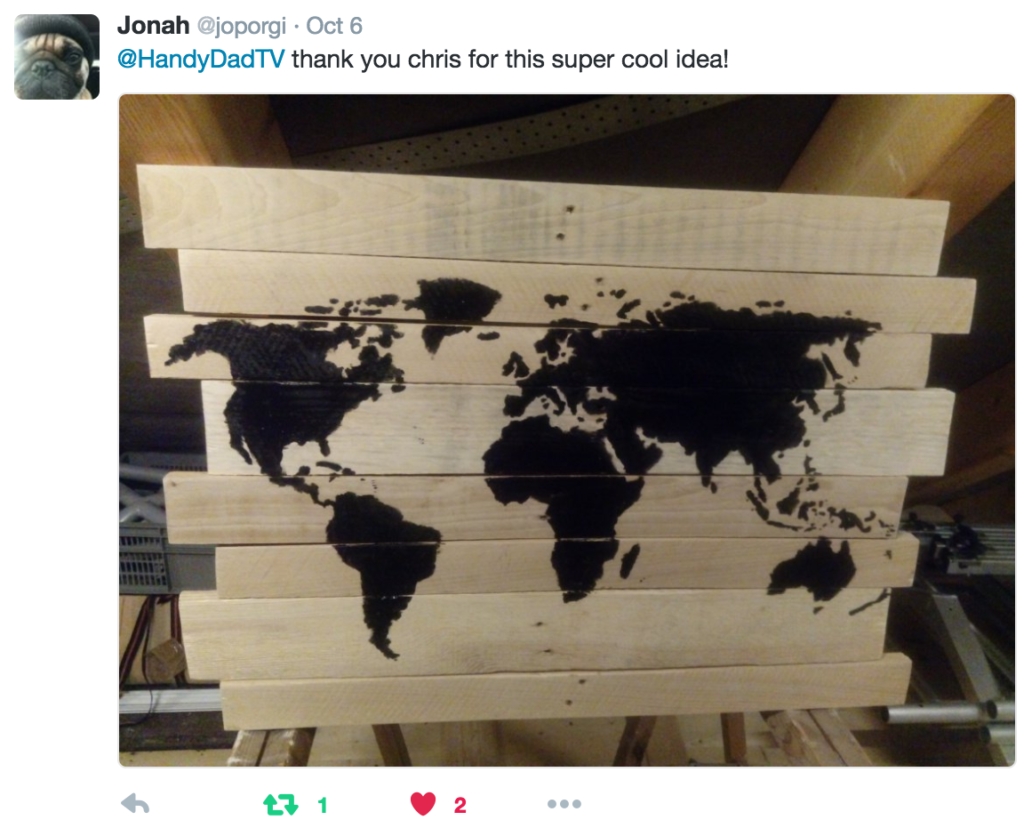 Other Ideas
You could use the same technique to draw art on any surface, even a wall mural. Check out this video for more inspiration.