Introducing the JAQX Smart Home System
The JAQX Smart Home System is a unique combination of home security, home automation, home surveillance and personal emergency response. This brief video provides a complete overview:
My Search for Security
My quest for home security began in 2012 after a number of break-ins in our neighborhood caused my wife to be uneasy. Our house was well-lit, we've always had dogs, and we lived between two police officers so I never felt the need for an alarm system.
To make her feel more comfortable, I purchased an inexpensive surveillance system and installed it myself (coincidentally, it was the first DIY video on my channel!). It was a wired system with low-quality cameras, but it had decent motion detection at the front door and it sent alerts to my smartphone so I was responsible for my own monitoring. Most surveillance systems have no concept of armed vs. disarmed, so I would continuously get notifications of motion, even my own. I ended up disabling the notifications, but it didn't matter because the cameras and signs were enough of a deterrent. Right?
Wrong.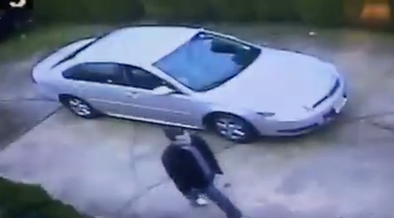 A few months ago, a neighbor's house was burglarized even though she had a surveillance system. This picture shows how the criminals parked in her driveway and walked past her highly visible cameras in broad daylight. Yes, the video footage was used by police to help bring the men to justice, but the damage was done and my neighbor's stuff was never returned.
There are desperate people in this world who will take any risk to steal anything they can get their hands on just to get high another day.
So I started looking for a good, DIY alarm system.
Why I chose JAQX
The JAQX Smart Home System is a unique combination of home security, home automation, home surveillance and personal emergency response (PERS).
I already had a surveillance system. I already had some home automation. I didn't really need a PERS solution.
I just needed an alarm system. So why did I choose JAQX?
I admit it – I'm a geek for technology and most people aren't. Although I can view my cameras remotely and turn my lights on and off from an app on my smartphone, the truth is, the rest of my family couldn't. It was all too complicated for them. They like simplicity.
When they sit down at our entertainment center, they don't want to shuffle multiple remotes and know which inputs the TV and sound system need to be on for them to watch HGTV or Netflix! So I set them up with a universal remote that handles everything for them.
JAQX is the Universal Remote for my Home
JAQX allows anyone in the family to control virtually anything in our home from virtually anywhere! JAQX was built to be multi-user, so everyone has their own user id and password. All functionality is accessible from a single app (a "universal remote") and the user interface is incredibly easy to use. It's so simple, they don't need me to be "tech support" like I am with the TVs and sound equipment. That eases my mind.
I'm an IT guy so I know a lot about data security and how hackers are constantly breaking into commercial systems. JAQX uses military grade encryption to ensure nobody can crack my code and disable my system without my knowledge. Plus every device is tamper-proof and comes with a 5-year warranty. That eases my mind.
All JAQX plans include 24×7 professional central station monitoring so I can go to church, the theater, or on a cruise without the pressure of watching my home. JAQX does it for me. And that eases my mind.

Not Sold in Stores

JAQX is only available in the US (at the present time) and is only sold through a network of independent representatives and select affiliates. You'll never see it in home centers or electronics chains, nor will you see any national advertising. Why? Marketing statistics show a person is 90% more likely to buy something if they see a friend already using it. So JAQX was started about two years ago to disrupt the smart home industry by becoming a household brand through word-of-mouth.
If you get JAQX through me, you also get my help setting up your system! Think of it as free consulting. I'm not just going to point you to my videos; we'll get on a video call, walk through your home and design your system together. We'll do the same thing when the box arrives and you're ready to install it. It's a great concept that JAQX calls "Do-It-Together". As an added bonus, if you're open to it, I will produce a HandyDadTV video of you showing off your new smart home so you can show it to all of your friends and family!
For now, just take the first step: let me know that you're interested and we'll arrange a call.
Learn why I became a JAQX independent representative.
JAQX Videos