IKEA Dioder Cabinet Lights
The most beautiful (and most expensive) cabinet in my kitchen had glass doors to display our nice glassware or dishes. If you've never remodeled a kitchen, a glass cabinet costs extra because of the glass (no duh) and the extra cost of finishing the inside of the cabinet to match the outside. In this video, I show how I installed two sets of IKEA Dioder Cabinet Lights in this cabinet. I bought these sets for $19.99 each at IKEA.
Third Time's a Charm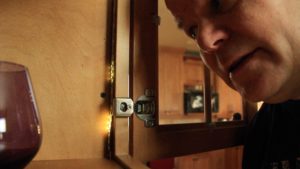 This is the third time I installed lights in this cabinet. The first time, about 12 years ago, I used clear incandescent cable lights but they didn't work out for me. The heat from the 110-volt bulbs caused the plastic to yellow and become sticky, and a lot of the bulbs burned out over the years.
About four years ago, while converting my under-cabinet lighting to 12-volt LED pucks, I bought a roll of self-adhesive LED strip lights on eBay. I don't remember the exact date or how much I paid for them (eBay purchase history is limited to two years) but they were cheap.
I thought LED lights would never burn out and would last "forever". But unfortunately, I was wrong. And I got what I paid for. I am not sure if I should blame the actual LEDs or the resistors or other components on the strip, but these things were awful.
Installation Method
Dioder lights come with two methods of installation: metal clips and double-faced tape. The metal clips had such tiny screws that I couldn't possibly install them inside the face frame of the cabinet! So I took the easy way out: the tape. I must say, I was impressed with the stickiness of that tape. I really don't think these things will come off on their own.