Canary All-in-One Home Security System
Meet Canary
The all-in-one home security system you control from your phone. It's built to learn and sends intelligent alerts with HD video and audio directly to your phone.
Canary is an innovative alternative for home security that's perfect for renters or condo owners who can't install a traditional surveillance system. Like the proverbial canary in the coal mine, Canary is an all-in-one security system that allows you to see what's going on INSIDE your house and take action.
Canary has a high definition wide angle camera that visually monitors your home and detects movement. It records HD video, with sound, to the cloud so you can access it anywhere.
Ready to buy now? If not, keep reading.
Protect the people and places you cherish most with the world's most powerful and stunningly beautiful security camera.
Setting up Canary was ridiculously easy. It's all controlled through an app on your Apple or Android smartphone. The app walks you through the whole process of setup and gives you a tutorial on the features of Canary.

The best feature, which sets it apart from a 
traditional surveillance system
, is that Canary 
knows
when I'm home and automatically switches modes accordingly!
Modes

Canary monitors your home in three modes: Home mode, Away mode, and Night mode. The modes allow you to configure when to send notifications.
You can manually set the mode in the Canary app, but the best feature of the Canary is that it KNOWS when you're home.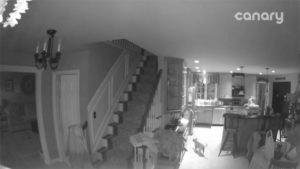 If you have multiple people in the house, like I do, everyone needs the Canary app installed on their phones. It monitors who is home to automatically set the mode.
Home Mode
I configured my Canary so that Home mode is private. That means it doesn't record video to the cloud and won't let anyone view live video when someone is home.
Away Mode
In Away mode, Canary sends notifications to my phone if it detects motion or abnormal conditions. The app plays a video clip of the event so I can determine if it's a burglar or someone I know, like a pet or relative. If it's not, I can decide to activate built-in siren or call the police (or both) right from the app.
Night Mode
Night mode can be used to send notifications while you are home but typically sleeping. I have two dogs that monitor my house while I'm sleeping so I record video in Night mode, but don't send notifications.
It works with Ethernet or WiFi, but I chose WiFi for flexibility to install it anywhere in my home.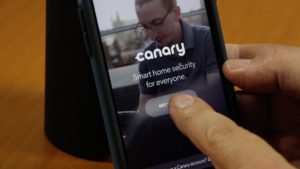 Say goodbye to security companies with high monthly fees. With these little devices, technology is truly moving to a model where you can provide your own central station monitoring.
Canary comes in four colors: black, white and silver. They easily blend in on side tables, with knickknacks, or your entertainment center.
You can have up to four Canaries on your account, but it's fine to start with just one if you have an open floor plan.
I placed mine on top of a curio cabinet near my front door because it provided me the widest view of my ground floor. Most burglars head right to the bedrooms upstairs, so this location gave me the best view of the steps too.
Even if you have a traditional surveillance system, like I do, Canary complements the functionality. And provides an additional level of security.
Buy Canary
New Canary Multipacks – Save up to $60