Bookcase Bridge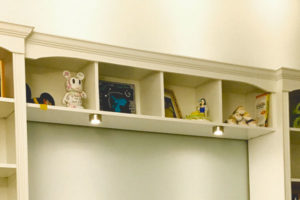 A bridge bookcase is a three-piece configuration where a horizontal bookcase (the "bookcase bridge") is supported by two vertical bookcases (the pillars). The bridge can span different things — beds, desks, doorways, etc.
This is a detailed how-to video from my Bed Bridge Bookcase project which transformed very square, boxy bookcases with elegant curved arches, crown molding and a bookcase bridge, as detailed in this video. I recommend watching the project video first if you haven't already seen it so you'll know the whole story behind this project.
Why Billy?
I completely hacked a Billy bookcase to make the bridge on this project. I ignored IKEA's directions, discarded all of the hardware, and cut every piece to be the size I needed. I expect many people will criticize my use (or abuse) of a RTA (ready to assemble) product for this purpose.
Although I could have purchased simple melamine shelving from my local home center for potentially less money, I used the Billy because I knew the color would match the Brimnes pillars and Billy included a matching back that I wouldn't be able to find at a home center. Ultimately, Billy saved me time so it was worth the $50.
Wood Joinery
IKEA cabinetry and bookcases are idiot-proof because all the joinery is done for you. They pre-drill holes for dowels, cam screws, shelf pins, etc., so you don't need to think about it. You just follow their illustrated directions sheet — you don't even need to know how to read!
Because I completely hacked the Billy bookcase for this bridge, I couldn't use any of the standard joinery. I needed to cut every piece to custom sizes and do all joinery on my own.
There are numerous methods for woodworking joints used by DIY woodworkers. Pocket hole jigs have become very popular on HGTV and DIY Network, and they work great for pieces with a visible front and a hidden back where the ugly pocket holes won't be seen. This would be a challenge on a bookcase bridge because both sides of the dividers are visible.
I decided to use a biscuit joiner (aka plate joiner) to assemble my bookcase bridge. Although it's not a common DIY tool, I have owned one for over 20 years and highly recommend it for hidden joints like this.
If you want to make this project without a biscuit joiner, you could use ordinary screws through the top and bottom, but the bottom screws will be visible. Just paint them white to hide them as much as possible.