Bed Builder: Davis Family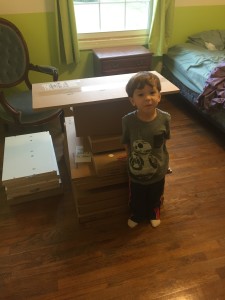 Meet Harvey. This little guy is 3 years old, presently an only child, and he's the proud owner of an IKEA Hack Platform Bed, courtesy of his parents, Matthew and Carter Davis, who live in Rustburg, Virginia.
Preparation
Mom & Dad were in the market for a "neat bed" for Harvey to transition from a toddler bed to a "big boy" bed. But they couldn't agree on anything reasonably priced and everything they both liked would have cost thousands of dollars.
Then fate stepped in and they saw my DIY video on Facebook and thought it was great design that Harvey wouldn't outgrow.
Shopping at IKEA
Their closest IKEA was in Charlotte, North Carolina, (NOT CLOSE) so they ordered everything online. Carter said the process was easy and there were no issues with the shipment, however the delivery fee was a little steep at $99 and they took about 3 weeks to arrive.
Their bed used a full size mattress so they bought the exact SEKTION and TUTEMO cabinets that I used in my original design. Carter said they might have used different cabinets if they had more money, but they are extremely pleased with how everything turned out.
The Build
Carter said it took them a couple of hours to assemble the cabinets and a couple more to build the bed. The bed framing is attached to the wall, just like the video. She thought it went "way easier" than expected and that anyone could do it.
As you can see from the photos, Harvey has no intention of using the space under his bed for storage. It's purely for FUN at this point! Although there are no siblings to share the bed with, Harvey's uncles and grandmother are super jealous!!
Afterthoughts
Matt said these pictures were taken right after assembly and that he still plans to cover the tops of the cabinets, possibly with beadboard, and he will also reinforce the steps as shown in the Q&A Video.
If you have any questions for Carter, you can find her on Facebook or send email.